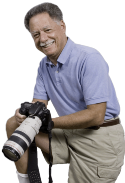 Bio of Stuart J. Schaefer, Photographer
I have now been a freelance photographer since leaving the military. It was during my tour of duty in the military that I first found an interest in photography. The first paid assignment was a wedding of a friend and I have never looked back.
Today I no longer do wedding photography, but put more focus toward my scenic and commercial work. Along the way I worked as a post photographer for Redstone Arsenal (Huntsville, Alabama) for two years. Until 1988 I was a self taught photographer learning from reading and trying things until I was able to get it right. That year I dropped everything and used my GI Bill and went back to school to pursue a degree in Photo and Film Communications.
In 1992 after having a successful photo career in Huntsville, Alabama I packed everything up and move to Gulf Breeze, Florida. Not really knowing anyone in the area this was a big move for me. However the timing was right. I was looking for a change in my life and photography work.
In 1998 I started my move to digital photography from film. Starting the end of 2002 I did complete move to digital photo. Currently I am using the Canon 7D , 5D Mark lll and the Sony Nex-7.
Today I still continue as a freelance photographer covering national sailing races, scenic photos and commercial work in this area and around the world. Some of my work has been featured in Sailing World Magazine and other publications across the country.
Cameras
Canon EOS 5D Mark III
Canon EOS 7D
Sony Nex-7
Lenses
Canon EF 17-40mm f/4 L
Canon EF 24-105mm f/4 L IS
Canon EF 70-200mm f/2.8L USM
Canon EF 100-400mm L f/3.5-5.6
Canon EF 40mm f/2.8 STM
Sony E 18-55mm F3.5-5.6 OSS
Sony E 55-210mm F4.5-6.3 OSS
Sony E 16mm F2.8
Flash
Canon Speedlite 420EX
Canon 580EX Speedlite
Printers
Epson 3880
HP Designjet 130
Canon iPF5000
Computer
MacBook Pro Retina Display 2.6 I7 16GB DDR3 (June 2012) LED Cinema Display (24" flat panel)
This work is licensed under the Creative Commons Attribution-NonCommercial-NoDerivs 3.0
Unported License. To view a copy of this license, visit here.
© StuartOnline S.J.Schaefer Photography 1998-2013