One thing that I was very surprised to find out is how much it is to part on the beach.
Try $12.00 a day and that is only for the weekdays.
So I jumped out of the SUV took a few fast shots and hit the road.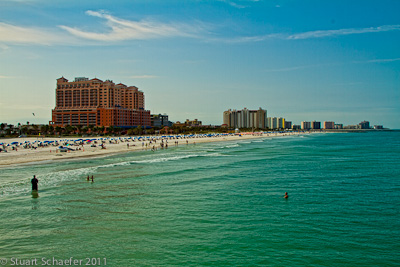 Clearwater Beach shot from the pier. (Do have a panoramic of this, but will work on that after my return.)
Entrance to the pier
Bridge heading out of the Clearwater area
A good day to take in the Sun at Naples Beach.
This is where I had dinner this evening in Naples.
It is on 5th Avenue.
5th Avenue is the high class of the area.
Famous Fifth Avenue of Naples after the rains this evening.
Tomorrow I plan to head further south. I just may end up in Key West.
[ add comment ]
( 1 view )
---
I went about 480 miles today and end for the night in Spring Hill, Florida.
Made a couple of stops which one was St George Island.
Below are a few of the photos I shot today.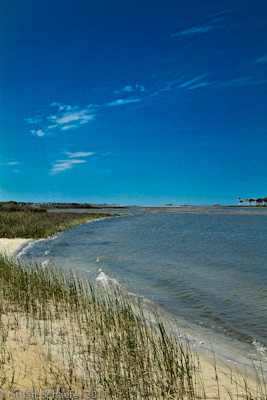 Inter Coast St George Island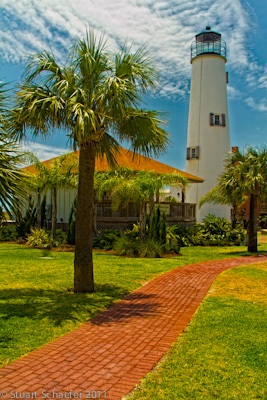 St George Lighthouse
South End Of St George Bridge Boat Anchored
Be watching for day two as I head further south.
Stu
[ add comment ]
---
I had informed a number of folks that I was heading to Niagara Falls for my first traveling Blog. However due to a number of issues that trip has been rescheduled. That trip is now scheduled for July/August 2012 as I will be in Toronto on another assignment. So I did not feel the need to do it twice.
My first traveling Blog should start on or about May 4th as I travel along US Route 98 from Gulf Breeze, Florida to Palm Springs, Florida. The route may very some, but will keep you posted.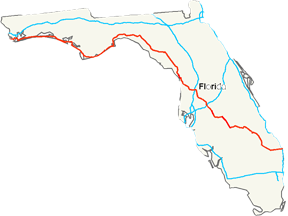 (Red line is US Route 98.)
Plans as of now are to travel west to east along US Route 98 and of course documenting this travel via photos along with postings in this Blog. Also this will be part of the photo book I am working on. A number of local businesses have agreed to display some of my work as soon as I am able to print and frame after my return.
Camera gear is all laid out and being checked and ready for packing up.
The list below is some of the gear I will be bringing along:
Cameras
Canon EOS 7D
Canon EOS 40D
Canon EOS 30D
Lenses
Canon EF 24-105mm L f/4
Canon EF 70-200mm f/2.8L USM
Canon 100-400mm L f/3.5-5.6
Flash
Canon Speedlite 420EX
Canon 580EX Speedlite
Two tripods and one mono pod
Computer
Macbook Pro 2.66 (June 2009)
3 Firewire 800 external portable hard drives for backup & storage of images.
Photo editing software
Photoshop CS5
Lightroom 3
Of course a bunch of miscellaneous items.
Updates should start as mentioned on or about May 4th.
You will be able to ask questions and or post comments as my travels take place.
So bookmark this page if you like and follow along.
Best,
Stu
[ add comment ]
( 1 view ) |
related link
---
<<First
<Back
| 1 | 2 | 3 | 4 | 5 | 6 |